Are you looking for the best gifts for senior citizens this holiday season? It can be hard to buy gifts for senior citizens, especially if they live in a senior living community, where most of their needs are already met. However, there are still many meaningful holiday gifts for senior citizens out there! While your senior loved one may have everything they need, your gifts will be special simply because they came from you. Whenever your senior citizen looks at or uses their gift, they'll think of you, and feel your love for them. So let's explore the 55 best gifts for senior citizens this holiday season. 
Homemade Holiday Gifts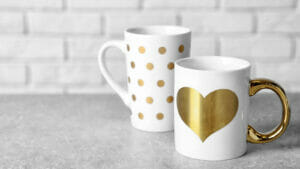 Decorated mug.

You could visit a

pottery studio

to decorate a premade ceramic mug. Use decorations inspired by your favorite memories of your senior. If you don't have a pottery studio near you, you can also purchase an inexpensive ceramic mug and decorate it with

oil-based markers

. Plain mugs are often available at bargain and discount stores, or big box stores. You can also buy inexpensive ones

online

.
Drawing or painting.

If you have any artistic abilities, use them to create something for your loved one! If they live in a

senior living apartment

, senior citizens often enjoy unique decorations to personalize their space. All you need is a blank

canvas

and your medium of choice–paints, paint pens, markers, watercolors, whatever you'd like.
Christmas tree ornament.

There are lots of fun and easy ways to make a

DIY Christmas ornament

. Buy a

clear ornament

or two and place a picture of you with your grandparents or another family photo inside. You can also write or draw on the ornament with

paint pens

. Whether they have a mini tree inside their apartment or an extra large one in their home, your ornament will have a treasured place on their tree.
Experience Presents for Seniors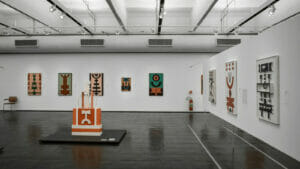 Maybe the best things in life aren't things at all. Experience holiday gifts for senior citizens create lifelong memories and strengthen the bond between you and your senior loved one.
Take them shopping.

Bring your senior loved one to the mall, share a soft pretzel, and browse together. This can be done in any weather and most locations, and will create lots of opportunities to get to know your loved one better.
Visit a museum.

Check out local art, science, or history together with a visit to a museum.
Spa visit.

Grandma deserves a day at the spa! Pamper her with a special spa visit. For even more fun, go together!
Short-term senior living stay.

Give them the gift of testing out senior living! Most

senior living communities

offer short-term stays. This can also be a great and accessible way for seniors to travel comfortably. 
Personal Holiday Gifts for Seniors

Grandparent journal.

This is as much a gift for grandchildren as it is for the grandparents! Your senior citizen can record memories of their life to be passed down to future generations. It's a fun walk down memory lane for any grandparent, and will be a special thing for children and grandchildren to inherit, too. Many options are available online. Check out this

grandmother's journal

or

grandfather's journal

.
Photo books.

Hard copies of photographs have a special place in any senior citizens' heart. Share the love with a book of photo memories.

Chatbooks

are a great option. It's simple to upload photos, and you can personalize the book to suit a variety of budgets. 
Digital photo frames

. While hard copies of photos have their place, nothing beats the immediacy of a

digital photo frame

! These frames allow family members all over the world to share their special momentswith their senior loved ones. This is an especially great option if your senior isn't particularly tech-savvy or present on social media. 
What I Love About Grandma (or Grandpa).

This

fill-in-the-blank book

will thrill grandparents with sweet notes from grandchildren.
Amazon Echo Show.

Make video calling easier with a smart display that can be voice-operated, like the Amazon

Echo Show

.
DNA ancestry kit.

Help your senior get in touch with their roots with a DNA ancestry kit.

23andMe

and

Ancestry.com

both have great options for finding out their ancestry.
Custom cookbook.

Preserve their favorite recipes with a special custom cookbook just for your favorite senior citizen.

Shutterfly

makes it both easy and beautiful.
Custom artwork.

If you're not artistic yourself, but want to give your senior a special piece of decor, try custom art. Something like this

family tree wood slice

is both beautiful and meaningful.
Personalized journal.

If your loved one likes to journal, treat them to a

high-quality personalized

notebook.

Plum Paper

has many different personalization options to ensure the perfect senior gift.
Non slip socks.

 N

on slip socks

are a great choice for seniors with mobility challenges.

These ones

can even be personalized with their favorite pet's face!
Monogrammed ceramic pitcher.

Display floral arrangements with style in this beautiful

personalized pitcher

.
Map throw pillow.

Remind your senior loved one of their loved ones, even those far away, with a handmade

map throw pillow

.
Special Holiday Visits for Senior Citizens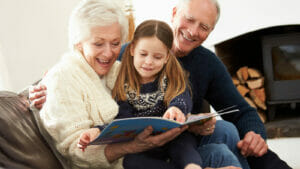 Surprise party.

Get everyone together and arrange a special event for your special senior citizen. Give them the gift of togetherness with a surprise party. Or make it low-key, and just surprise them with dinner at a restaurant…which happens to contain all of their grandchildren. 
Just visit.

Perhaps the best gift you can give a senior citizen in the holiday season is…yourself. Many people find the holidays an especially lonely time of year. Simply visit your senior loved one and spend some time with them, maybe with a plate of cookies or their favorite candy bar. It might end up being their favorite gift of all.
Classic Gifts for Seniors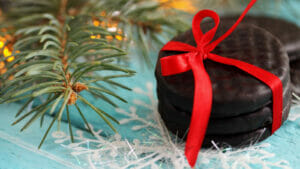 Throw blanket.

Everyone loves a good

cozy blanket

. Senior citizens, who are often cold, will particularly love this gift. 

Cozy slippers

. Cold mornings call for warm tootsies! Check out

these slippers

for women, or

these

for a more masculine option.
Puzzles.

While puzzles could seem like a "boring" or expected gift, there's nothing boring about these unique

gradient puzzles

. The finished product is a modern work of art!
Weather station.

This little

weather station

might be a fun gift for your senior citizen.

Luxury bathrobe

. Add a little luxury to grandma's life with a

luxury bathrobe

from L.L. Bean.
Portable fan.

If your senior citizen often finds themself overheated, a sleekand quiet portable fan is a great gift. Check out

this one

that comes in 4 fun colors.
Fun doormat.

A cheeky

doormat

can be a great gift, especially for someone in a senior living apartment.
Kindle.

The

Kindle

features a light-up display and adjustable text sizes, which are essential for the senior who loves to read. 
Chocolates.

A classic for a reason. Go with an old-fashioned favorite like

See's

, or a

gourmet basket

. They deliver!
Great sheets.

Upgrade your senior loved one's sleep with some beautiful, luxurious

sheets

. 
Stainless steel water bottle.

Help grandpa or grandma stay hydrated with

this fabulous Contigo water bottle.

It keeps water cold (or hot) for hours, can be used one-handed, and automatically seals to prevent spills.
Comfy, supportive shoes.

Vionic

shoes are podiatrist-recommended and offer excellent arch support. They're great for aging knees, plantar fasciitis, and anyone who just wants to be comfy!

Chess set

. They'll make friends and learn new skills with a classic chess set.

This one

is magnetic to help with shaky hands.
Canvas tote.

This

classic canvas tote

is great for everything from knitting supplies to card games. 
Unexpected Senior Holiday Gifts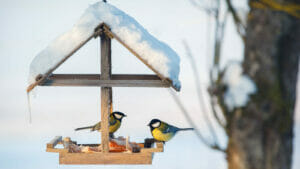 SodaStream.

If your senior citizen loves soda or sparkling water, they may have a lot of fun making their own creations with a

SodaStream

.

This model

is compact enough for a

senior living apartment

, even without a full kitchen.
Bird feeder.

Avid bird watchers will love this classy

bird feeder

that can be hung outside any window.
Snack box.

A fun

snack box

is a great choice for your favorite senior citizen. Check out

this healthier option

if your senior loved one is more health-minded.
Streaming device.

Introduce grandma or grandpa to the beauty of streaming. If your senior citizen doesn't have a smart TV, you can easily add a streaming device to any TV with a USB port. The

Amazon FireTV stick

is a budget-friendly option. The

Roku Express

and

Apple TV

are also good choices.
Smart mug warmer.

For the senior citizen who has everything, check out this temperature-controlled

mug warmer

. It'll keep their coffee or tea at the perfect temperature, all day long.
Apple AirTags.

If your loved one is a little forgetful and has an iPhone or other Apple products, these

AirTags

will be a welcome gift. They will never lose their keys, headphones, water bottle, or wallet again!
Funny hat.

Your grandpa will appreciate this

tongue-in-cheek baseball cap

. It will keep the sun off his face, and also features embroidered lettering that says, "I'm not old, I'm classic"! 
Friendship lamp set.

With these

friendship lamps

, you keep one and give the other to your loved one. When you're thinking of them, touch your lamp. Your senior loved one's lamp will glow too, reminding them that they are loved and remembered, even if you're far apart.
Grilled cheese toaster.

For the senior who has everything, check out this

grilled cheese toaster

. It's cute and fun, and who doesn't like a great grilled cheese sandwich?
Even More Holiday Gifts for Seniors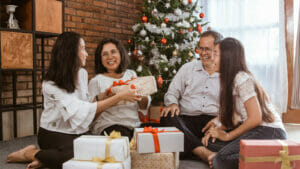 Sleep machine

. Insomnia is common in seniors, and lack of sleep can be very damaging. Give your senior a

sleep machine

to help them catch those zzz's. 

Sun hat

. You can still get sunburned in the winter! Protect grandma's skin and keep her looking stylish with a

sun hat

.
Electric kettle.

If your favorite senior citizen loves a good cup of tea, they deserve a beautiful and functional electric kettle. Check out

this one

that comes in 6 stylish colors.
Harmonica.

Harmonicas

don't require a lot of finger dexterity, and are arthritis-friendly. It's always fun to learn a new instrument, and it even helps fight dementia and cognitive decline.
Noise canceling headphones.

Seniors who live in

apartments

might appreciate

noise-canceling headphones

. They can listen to music, but also drown out neighbors' noise and take those well-deserved naps!
Stellar Living hopes you've found ideas for some great holiday gifts for your senior citizens this year!