Dementia, or difficulty thinking, remembering, or making decisions, can be a miserable and debilitating diagnosis. Alzheimer's is a common disease caused by dementia. Fortunately, many treatments exist, including creative therapy! Studies show that spending time creatively can help improve dementia symptoms. Art projects increase mood and overall well-being, help sharpen senses and maintain fine motor skills, and reduce feelings of depression and isolation. Here are a few easy, inexpensive creative projects to help those suffering from dementia. 
Flower Arranging
Flower arranging doesn't require specialized equipment or advanced skills–anyone can try it! All you need are some cut flowers, containers, and perhaps ribbon or floral wire. Offer seniors a variety of flowers and vases, and let them arrange and rearrange to their heart's content. You could also use faux flowers and florist's foam for an arrangement that will never get droopy. As an added bonus, they'll have a lovely arrangement to take home!
Decorate Mugs
For a quick and inexpensive craft, dollar store mugs can be easily decorated with oil-based Sharpie Paint markers. Just clean the outside of the mug with alcohol, provide seniors with lots of markers, and see what your loved one comes up with! To finish the mug, let it dry for at least 24 hours. Then place it on a cookie sheet in a cold oven. Bake at 375 degrees for 1 hour. Turn off the oven and allow the mug to cool inside. You can find a fun spin on this project and detailed instructions over at Adventures of a Caregiver.
Adult Coloring Books
Adult coloring books are a recent trend that is fun and satisfying for everyone. You don't need any artistic ability to color, and the result is soothing and satisfying. You can find adult coloring books at most craft stores or big box stores. We like to use ultra fine felt tip pens, but your senior could also use colored pencils or whatever medium their heart desires. Just keep your loved ones' skill level in mind when choosing a coloring book or page–designs that are too small and intricate could be frustrating for those with advanced stages of dementia.
Stamps and Ink Pads
Stamping is a fun and easy way to create pictures, cards, or holiday decorations. All you need are stamps, ink pads, and paper.
Make Refrigerator Magnets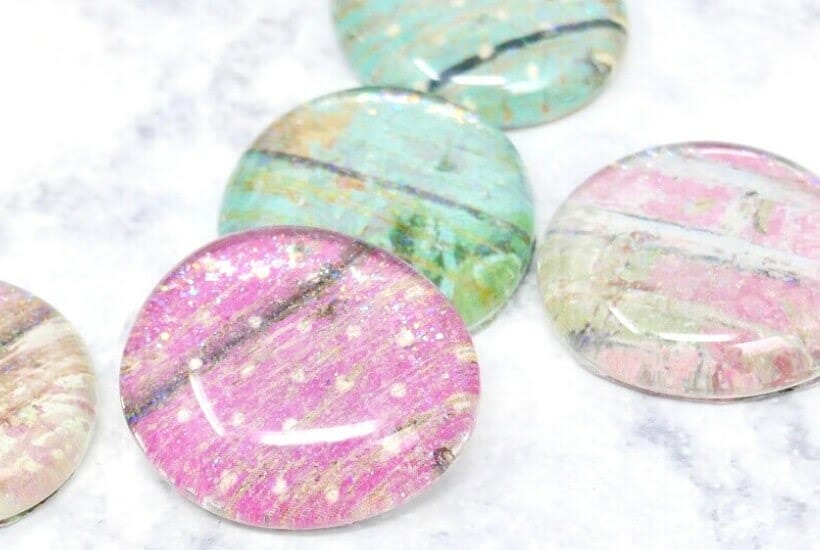 This is a slightly more involved project, but it's easy for your senior to do and the results are amazing! Basically, you paint Modge Podge glue on squares of paper, and glue on glass gems that are flat on one side (like those used to fill vases). Let it dry, cut around the gem, and glue on a magnet. Find the full tutorial at Adventures of a Caregiver. 
These easy and inexpensive art therapy projects are a great way to spend time with your senior loved one. And as an added bonus, these types of creative projects even help treat the symptoms of dementia! These types of projects are often offered at Stellar Senior Living Communities. Find a community near you today.